Savant luxury home theater and home automation solutions are engineered to simplify life — not complicate it. Featuring the industry's only Apple®-based control and automation solution, Savant unifies all of your whole house audio and video, lighting control systems, security, climate, communications, internet and ancillary services into one easy-to-use, seamless experience.

As the operating system for the connected building, Control4 brings automation and control to the broad market. Control4 technology is at the heart of an expanding ecosystem of leading consumer electronics products designed to work together with ease. Control4 develops and delivers award-winning control software and hardware for virtually any room or building from anywhere at any time. Control4 is the affordable, easy to use, and easy to install solution for digital living. From essential energy management to effortless entertainment; from lighting control to comprehensive security systems, Control4 is the platform for managing all the pieces of today's connected life.

Today, Lutron is devoted to controlling lighting. Their focus on product innovations, technology, quality, and customer service has made them the undisputed leader worldwide in the area of lighting controls. Lutron offers more than 10,000 products to satisfy virtually any residential or commercial project. Lutron products adjust the intensity of virtually every kind of light, and Lutrons remain to this day the only company that provides an integrated solution for controlling both natural daylight as well as electrical lighting.

Sonos is the wireless HiFi system that lets you stream all the music on earth in every room. Start with one room, then, expand anywhere to fill your home with room-filling sound. Set up Sonos players wirelessly and control all your music with free apps for your Android®, iPhone® or iPad®.

RTI makes using today's technology easy with a complete line of award-winning home control solutions. With the ability to control the home theater, whole house audio, lighting, HVAC, and security to name a few, RTI provides a simple, unified interface for today's home control demands. With a complete lineup of handheld and in-wall controllers, as well as powerful system processors, RTI products can be integrated into virtually any home environment for a truly enjoyable control experience.

A Linn system will handle anything you throw at it, from albums on your hard drive to music in the cloud. Choose from complete systems or build, customise and upgrade your own with our range of hi-fi separates.
Anything you play through a Linn system can be shared around your home, including Blu-ray, TV, your digital music collection or even vinyl. Play the same track in every room, perfectly synchronised together, or select a different mood for each room in your home.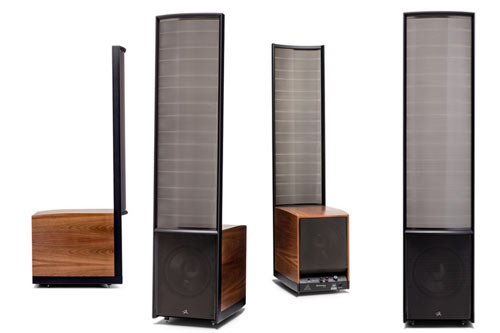 Since 1983 MartinLogan has hand-crafted high performance electrostatic speakers. Their award-winning designs, advanced technologies, and outstanding customer service have long made MartinLogan's amazingly detailed speakers a must have for home theater and music lovers around the world. Located in Lawrence, Kansas, MartinLogan's dedicated in-house design and engineering team carefully creates each speaker to provide unparalleled sound reproduction along with industry leading aesthetics.

Bang & Olufsen manufactures a highly distinctive and exclusive range of televisions, music systems, loudspeakers, telephones, and multimedia products that combine technological excellence with emotional appeal.

Bang & Olufsen was founded in 1925 in Struer, a small town in the north western part of Denmark, by two enterprising young engineers, Peter Bang and Svend Olufsen. They created the business that was to become an international design icon and a global symbol of audio-visual excellence.
Today Bang & Olufsen a/s is world renowned for its distinctive range of quality televisions, music systems and high-performance loudspeakers; products that combine technological excellence with emotional appeal in a sensational design language.

Today, you can find Bose wherever quality sound is important. From the Olympic games to the Sistine Chapel. From NASA space shuttles to the Japan National Theatre. In the home and on the road, from large outdoor arenas to intimate neighborhood stores, restaurants and clubs, you can hear the realism of the most respected name in sound—Bose.

Lencore transforms environments that change people's lives. They create more privacy, greater comfort and better safety. Today, at Lencore, they engineer and build system solutions for Sound Masking, Paging, Audio and Mass Notification and Emergency Communication (MNEC) with applications in a variety of industries.
They see a world where the workplace is safer, more productive and privacy matters; a world where communication is instantaneous and clear; a world where the environment is as ideal for an individual as it is for group collaboration.

AudioQuest has a well-earned reputation as a manufacturer of exceptional analog and digital audio/video cables. AudioQuest has been the largest cable supplier to the high-end specialist market for many years. AudioQuest is sold in several hundred outlets in the US and in over sixty countries, and offers products to suit almost every budget.

IC Realtime, LLC designs security solutions that not only help organizations to enhance the effectiveness of their security operations, but also improve their overall business performance.
Detecting and identifying security threats in realtime is one of the most critical challenges facing organizations today. IC Realtime, LLC has created video and biometrics solutions that identify threats as they occur and automatically alert management of potential breaches. With easy event-driven access, IC Realtime, LLC enables its users to immediately review events and investigate incidents as fast and effectively as possible.

DW offers a level of specialty in the manufacturing and deployment of analogue and IP video security technology that your business can rely upon. DW's highly refined production process offers substantial savings to our customers, requiring quality products on a "just in time" basis; and our in-house production and QC allow the complete production of devices such as multi-terabyte recorders, advanced video imaging, pre-programmed network devices, and the proven systems often required in today's markets.